Im the prosecutor (SashkataPro3) and I Approve Niki for AwesomeVIP.
1.He doesn't cause problems, He doesn't swear and insult. He is always frendly and good person at all.
2.When we asked him to do something, he never refused.
3.He helps us test the test server.
4.he may not be the most active player, but I am sure that when he becomes a VIP he will be more regular and have fun there.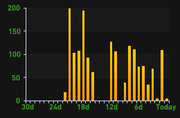 I don't see a problem for him not to be VIP
Good luck