Member

Posts: 6
Joined: Fri Feb 23, 2018 7:00 pm
x 1
x 1
Contact:
---
Server Admin

Posts: 75
Joined: Fri Jan 11, 2019 7:02 pm
Answers: 1
Location: Sofia/Bulgaria
x 46
x 46
Been thanked: 18 times
Contact:
There are two ways to get your Server VIP (AwesomeVIP).
1. Get a free VIP = You must be regular for a 1 month, from GameTracker We see how many minutes you play a day and how many days. This month you played only two days, this is not enough.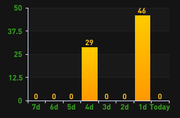 2.You can buy it as a boost sarver without waiting for a month. It costs only 1.2 Euro (2.40 leva). Buy by sending SMS to 1916 with text: 93.123.18.81:27017 Youre name (Nick). You can also pay by PayPal. You can see more here:
viewtopic.php?f=6&t=884
and good luck
---
Member

Posts: 137
Joined: Mon Jun 11, 2018 4:13 pm
Location: varhu stola
x 35
x 41
Has thanked: 17 times
Been thanked: 10 times
Contact:
Първо си оправи поста!
Ето линк към правилата за това
:
viewtopic.php?f=6&t=6
Ако не си разбрал как, просто добави и въпросите, а ако не искаш да се занимаваш просто направи изречения като
: My name in game is Me4o Kuh. I am 18 years old и т.н.
Пример:
1. Your Name-xXMr.ONurXx_YT (Тук трябва да напишеш своя ник в играта!)
2. Your age- 12
3. Where are you from- Bulgaria
4. Your gametracker.com page about the server -
https://www.gametracker.com/player/xXMr ... .81:27017/
5. Why do you think you deserve VIP (Very Important Person) status- (Тук пишеш защо мислиш, че заслужаваш да си вип в сървъра)
I think I deserve to be a VIP because I do well with the players and if, for example, I've offended them with something I apologize to them. I report people who think they use hack and so on.
Както SashkataPro3 е написал по горе трябва да си по редовен, а ако не искаш да се занимаваш да си активен просто можеш да пратиш SMS за VIP права
.
1. Оправи си поста!
2. Играй повечко в сървъра!
3. И ела отново за да получиш VIP права.
Късмет!
Ако някъде имам грешка моля админите да ме поправят!
I am Onur ❤
---
Site Admin

Posts: 1164
Joined: Fri Sep 01, 2017 4:54 pm
Answers: 8
Location: Sofia, Bulgaria
x 373
x 623
Has thanked: 104 times
Been thanked: 163 times
Contact:
Hey, Nikola I will move to Recycle Bin your VIP application until you edit the application by the rules.
---
Users browsing this forum: No registered users and 1 guest