Heeyoo madafakas I'm back and there is new (shitty) map in development. You all remmember those posters and pictures in the nojarq_fun_zone, right? Well I plan to add something similar in the new one thats comming. You can send me links to any kind of pictures (whatever if from google or made yourself) or you can whrite a reply with a specific text and I will consider adding them to the map. Example:
"Nojarq pls add to your map the following text - I'am Saad and i'am proud homosexual "
The only people that can make requests are
ALL CURRENT ADMINS
and
VIPs that have been regular at least 1 week in the past 30 days.
Currenly the map is around 30% i'll use this topic to post updates (if anyone cares) and i'll try to finish it at the end of this month (if I'am not lazy). And as i said I will consider adding your requests but there is a limit so only the best will be accepted. This is your chance to become forever part of CS 1.6 so BE CREATIVE MADAFAKAAA.
Update1:
- Huge imrovement over the cars/vehicles. They are not longer the same crap version as the ones in nojarq_fun_zone, but more like the awesome_cars2.
- All sended images to this moment are successfully added without problems.
Update2:
- Map size will be around double the size of nojarq_fun_zone.
- There is optimization issues that must be fixed before progressing further. Will try finish it until end of month.
CURRENT MAP PROGRESS: 100%
viewtopic.php?f=2&t=1193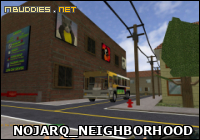 Here is a sneeky screeshot from the work in progress. Note that the final map won't look as it is appear in the picture!
Map size comparison: