---
---
---
---
---
Site Admin

Posts: 466
Joined: Fri Sep 01, 2017 1:54 pm
Location: Sofia, Bulgaria
x 134
x 196
Has thanked: 28 times
Been thanked: 72 times
Contact:
We don't have problem, everything works flawlessly as usual.
---
Server Admin

Posts: 39
Joined: Mon Jan 08, 2018 4:11 pm
Location: Republic of Serbia
x 23
x 27
Been thanked: 13 times
Your Counter Strike is making those errors. The reason is probably that your Counter Strike downloads the map, but then wont launch it. So you get error because your CS wont load the map it downloaded.
As a solution you can either download the map manually through Internet and import it in cstrike/maps or just download a working version of cs.
Kind regards, Mr.Roller
Fate is so unkind, now I should have known.
Blind leading the blind, reaping what I've sown.
---
Moderator

Posts: 166
Joined: Mon Sep 04, 2017 12:41 pm
Location: Sofia, Bulgaria
x 95
x 72
Has thanked: 15 times
Been thanked: 16 times
Interesting. Lets try you network.
Please follow these steps.
First run

cmd as administrator
From start menu type
cmd
and with second (right) button of mouse choice
Run as administrator
.
Its look like that:
if you are with Windows 10
if you are with Windows 8.1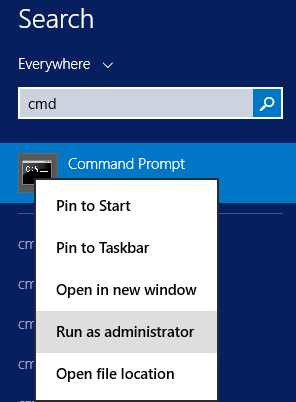 Type

ping 93.123.18.81

and click Enter
Result look like:
Ping statistics for 93.123.18.81:
Packets: Sent = 4, Received = 4, Lost = 0 (0% loss),
Approximate round trip times in milli-seconds:
Minimum = 62ms, Maximum = 71ms, Average = 65ms
Type

tracert 93.123.18.81

and click Enter
Please send result from this two commands.
Thanks.
---
---
Server Admin

Posts: 277
Joined: Sat Sep 09, 2017 12:47 pm
Location: awesomecs.tk/forum
x 71
Has thanked: 12 times
Been thanked: 18 times
Take a sledgehammer and break your router.
JK JK just disconnect your Wi-Fi from your CPU and wait for 5 mins and plug it again it should work out.
---